[an error occurred while processing this directive]

"Playing on Color" quilt constructed by BJ Reed 2002. I hand dyed cottons in various hues and intensities of Orange, Blue, Yellow, Green, and Violet. Using my hand carved piano key stamp, I fabric painted the keys onto the hand dyed fabric. I then pieced colors from light to intense to form the five keyboards. Various commercial batiks were used for line and border accents. I free motion quilted around every key and the borders. Size 45" by 41".

Playing on Color was jurored into PA National Quilt Extravaganza, Fort Washington, September 12-15, 2002. The theme of this quilt contest was "Forging Ahead" life after 9/11.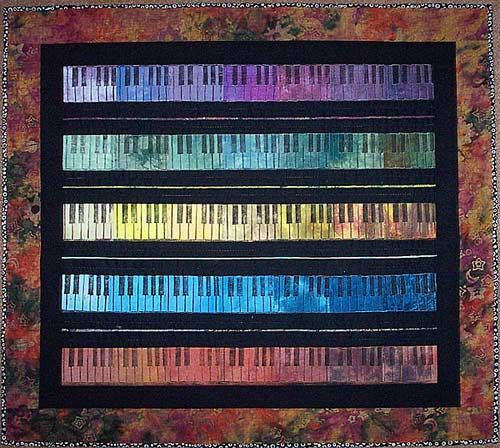 Artist Statement: "Since the tragedy of 9/11 the idea of forging ahead seems linked with rediscovering the past. Searching for the simple things that evoke the essence of Americana. The rich heritage of American music portrays the diversity, range and beauty of the soul of America. Capturing the musical paradigm in the bare imagery of a piano keyboard, I apply the limitless variety of color and shading to project this variety and depth in a fabric image."
---