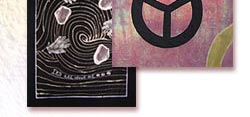 This quilt was awarded a PINK RIBBON,
JUDGE'S CHOICE, at Mid-Atlantic Quilt Festival,
Hampton, VA in 2006!
Do you believe in Cinderella, life's a bowl of cherries and Barbie dolls, then you are looking through "Rose Colored Glasses"! In reality a woman's life is filled with schooling, sports, career, dish rags, diapers, jeans, gardens, cooking...you get the picture. This is a fun quilt...see if you can find your face!